This is by far the most difficult review I have ever written, just because that I am a little torn on how to comment on the movie. One of the most anticipated movie of the year, obviously there is A LOT of expectation that is put on this movie.
Once again I am given the great opportunity thanks to the good people of
Nuffnang
to attend a preview screening of a movie franchise that I hold dear to my heart. That is because I am firstly a geeky fan boy of anything Marvel or DC related and its a movie of machines that form a protective armor around your body and kicks ass. What man would not love that?
[CLICK ON TITLE TO READ MORE!]
Please be mindful that for this review, I have to admit that I am very biased on the movie. One must understand that I have spend A LOT of my childhood days reading the comics thoroughly and basically following most of the storyline in the Iron Man series. So far the first two movies of this franchise was amazing and so there is a lot of expectation coming in for this movie. At least from me....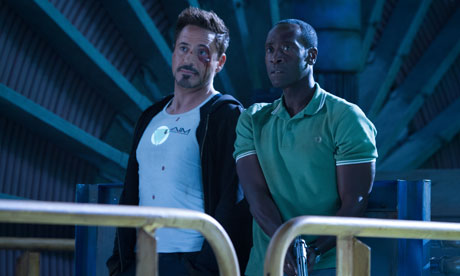 The story follows Tony Stark, who was facing severe signs of Post Traumatic Stress following the events of the Avengers in New York. Just as things were getting complicated in his personal life, a shadowy villain from his past emerges that threatens global domination and takes out Tony's best defenses using a viral biological weapon called Extremis. With the face of evil called Mandarin claiming responsibilities on all these attack, Tony now has to go back to basics to trace back his own past and fight, only to find his inner demons and his past are now jeopardizing not only himself but the ones he love.
Before I go to my usual rating, I would like to give my general review of this movie. There are two lights to look to this movie. As a normal movie watcher, the movie was friggin amazing! The was never a time there was a lack of action that was going on in the movie and it was a time when you really felt beneath the armor, Tony Stark really is just like one of us. Apart from the expected performance from RDJ, kudos has to be given to Guy Pearce for creating one hell of an image for Aldrich Killian.
However...
As a true blue Iron Man fan, I am slightly disappointed with how the movie was portrayed. Although I have to admit that the "humane" storyline of Tony Stark was a great way to progress in the plot, the development of character for both Tony and the bad guys in the movie was rather stale. I was truly expecting more from the movie...
Putting those two opinions into consideration, these are my reviews!
Would I watch it again? : I actual would, just to get the finer details of the movie. And of course to rewatch the final fight scene which was bloody epic!

Movie or DVD worthy? : Movie worthy but avoid 3D for this. There is a lot of action going on this movie which might get you head spinning in the first 10 minutes into the movie

Plot : I found the plot was a little predictable to be honest but I found the lines in the movie was seriously great! The twist to the plot was seen later on in the middle of the movie, which to my opinion lowered my rating for this movie.

Star Power : As mentioned above, the expected performance of RDJr was not short of the hype but major kudos should be given for both Guy Pearce and Ben Kingsley for their performance as Aldrich and the Mandarin respectively.
Teh Tarik Rating :
In retrospect, I did enjoy the movie experience as a whole but was a little short on my expectation. I'll put in a debatable 7 out of 10 for this one.
I believe that there will be alot that would disagree with my review which I completely welcome their opinions on this matter. Personally as a Iron Man fan-geek, I do have some problem with the development of the story line here but was still in awe with the graphics of the movie.
Please share your thoughts on this guys. Would love to hear it.