Much long overdue post but I finally got hold of the pictures that I needed for this post. Its an opportunity that does not come that often for me as the last time I was at this sleepy little nature town was more than 15 years ago so I do look forward to see the amount of changes that has been made in the town itself. As most of y'all would already know, this trip itself was made possible with a special thanks from the good people of
Nuffnang
. Cheers guys!
[ Miao Land!]
To be honest, nothing much has changed from the general outlook of the town and yet, there still seem to have the "hustle and bustle" aura in the town which you normally would see from a major city. For myself, its still a great escape from the daily town life of KL and yet still maintain some form of township in its own nature.
Despite almost breaking my back carrying the amount of stuff to the hotel room, I wasted no time to get on with my itinerary of the day which is to jungle trek. Little known fact about this town that it generates a large interest from "nature tourist" simply because of its world famous jungle trekking and wildlife reserve. Something that I am looking forward to experience it myself.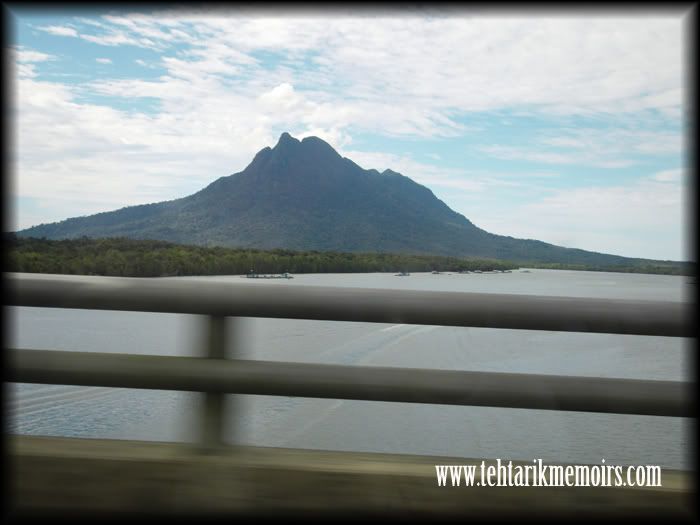 My first destination would be the famous Mount Santubong, one of Kuching's natural landmark. I would have to admit that before coming here I would only know about the place from the nursery rhymes that I used to sing when I was younger (please refrain from making dinosaur jokes, thank you).
The indigenous legend behind it is that the mountain was before a princess that was cursed by the God of Heaven to become a mountain because of her fight with her sister. Because of this, many of us today would be able to see the mountain resembling a woman lying on the her back. Talk about major punishment for a catfight...
[Does anyone see the woman lying on her back?]
Engaging for the jungle trek of my life, my mind was set to actually conquer this trail. One of the best things about the nature walk in Kuching is that the trails are not for the weak. Even the ones that I was going on are the warm up trails and there are those far worse. Problem was, I didn't see this coming...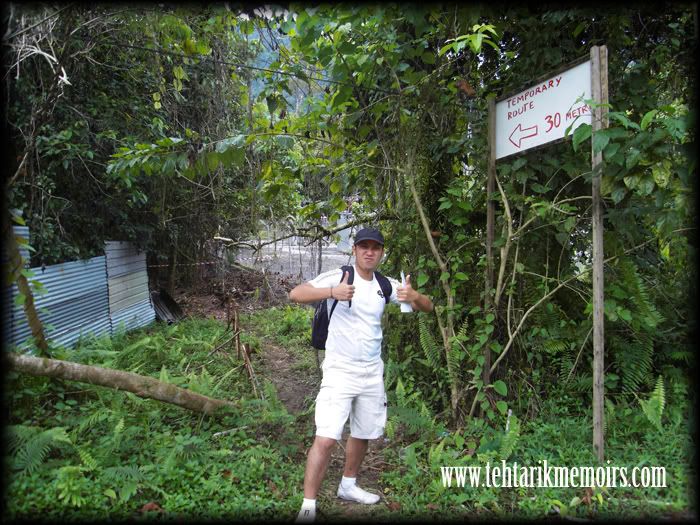 [All smiles before the trail]
My first perception was that the trail is going to be an easy 2km walk, with paved roads or plank walk throughout the jungle, while you enjoy the sights and sounds of the jungle. Unfortunately for me the trail was actually as au naturale as it can get, done so in order to preserve the nature experience of the trail. we're talking 2km worth of sweat inducing, leg crunching and insect infested trails....
[
Click on the pictures for full size pics!
]
Despite the rough nature of the walk, I managed to blaze my way through the trail with everything I got. I have to admit that the walk itself did scare me a little, as it is not always that we would be able to experience nature this close and personal, even for those who are native in Kuching. But I would have to admit, the sights and sounds that you experience while doing the trail is a must try for anyone that actually manage to make their way here. The Santubong trail, albeit not as famous in comparison to the other trails in Kuching still offers a great deal of experience for those who are looking for a bit of adventure in the town.1 and a half hour later, the result of the trail left me as follows...
[So pretty...]
After a hard day of travel, the best thing one would expect that night is the culinary wonders that the town had to offer. I did a little research online (thanks to all the food bloggers that I crashed for info out there!) on the seafood places in Kuching and obviously I stumbled upon this little seafood place called
TopSpot Seafood
.
Recommended by almost every single food reviews in Kuching, this place calls itself the "ABC of Seafood" and for the right reason. I honestly believe that there is nothing the place fails to offer when it comes to seafood and the different stalls available in the vicinity. Imagine a food court just for seafood...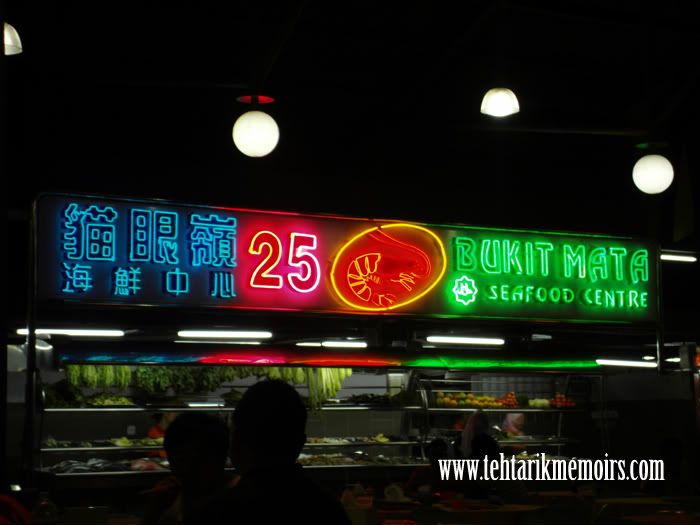 Of course with the amount of restaurants available, one would be smitten with choices but I managed to narrow down this particular spot from all the reviews. Calling themselves Stall 25 Bukit Mata Seafood Centre, the variety that they offer in the shop is amazing. The general idea behind their way of ordering would be "order what you can see with the way you want it to be"... and so I did.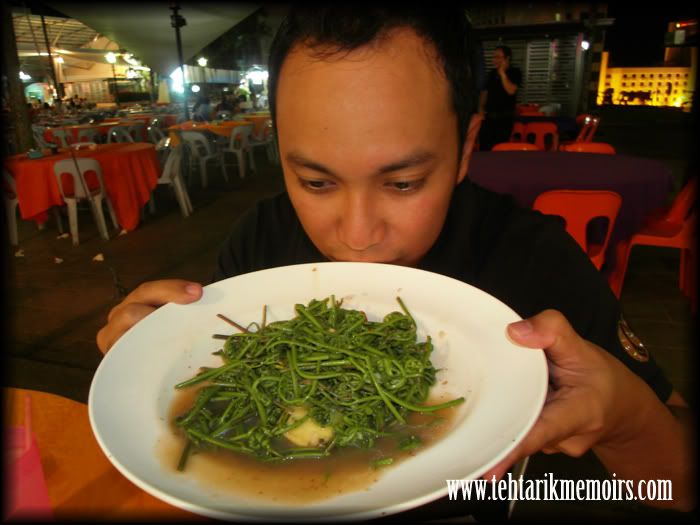 "Bidin" which is a local delicacy made from vegetables that has a similar taste and texture as spinach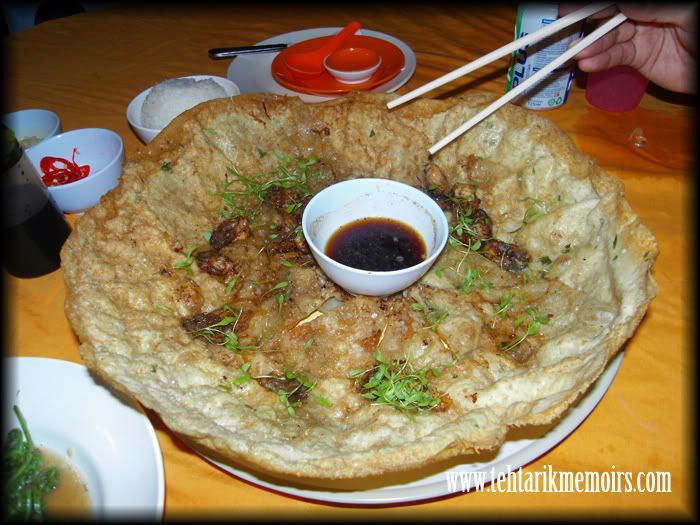 Fried Oysters with egg, which was made in a way I've never seen done before!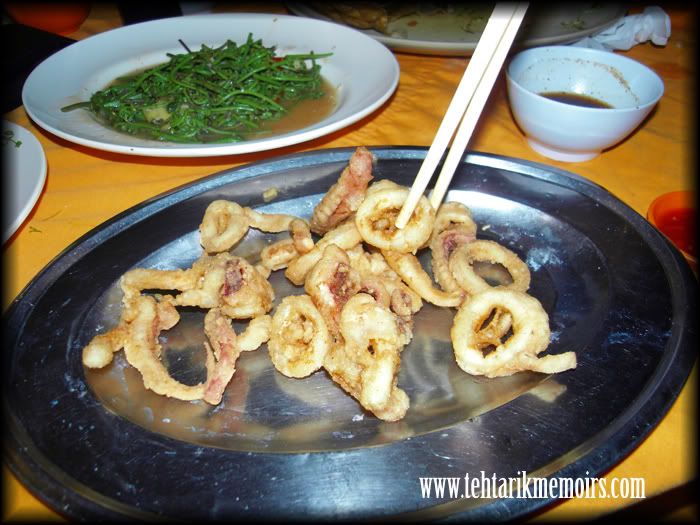 Fried Calamari, which is a must have in every seafood dish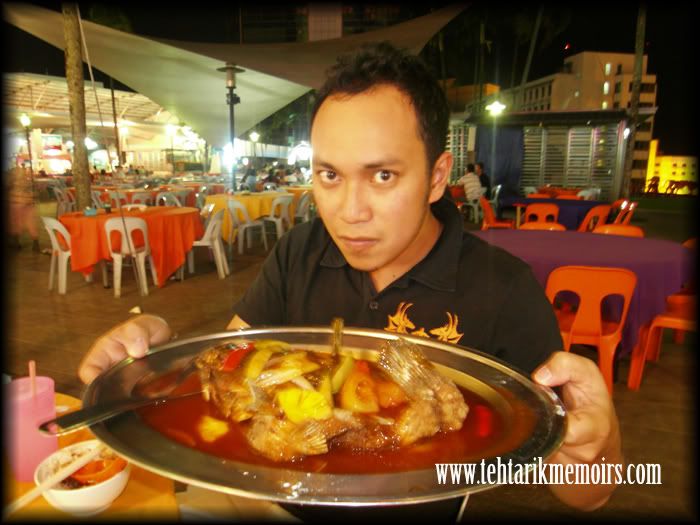 Fried Garupa with sweet and sour sauce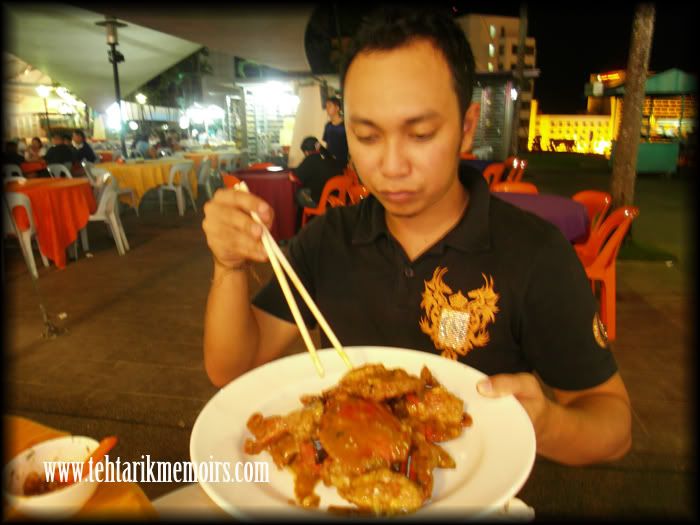 Crab deep fried in sour sauce. This is the best image I got of this dish. Was too excited to bite it, managed to blur the picture...
Mind you, that usually a seafood meal of such would cost anyone, almost anywhere around the world, a king's ransom due tothe amount of dishes and the type of things you would order. For what Kuching offered me, the bill came out to the amount I was not expecting at all...
MYR 80 for everything I mentioned above + drinks.
Now thats what I call fine dining... :D
TOMORROW: What to expect in Kuching town?
Nang
this post if you like it guys! Thanks