A couple of days back, I written a blog post on my entry picture that I submitted for the
Saga Snap and Win
competition. As also mentioned in the post, my pictures (check out the post entry of the pictures
HERE
) are up against 180 other pictures that are submitted for the competition.
Guess what?
THIS PICTURE HAS BEEN SHORTLISTED FOR THE TOP 25!
Unbelievable that they loved this picture and now, the hard part comes into play. As a requirement for the selected 25 pictures, a voting poll has now been opened for the pictures in which the public are given the chance to vote! Best thing is, a lucky voter now stands a chance to win RM 2500 in cash money!
Therefore I really need your help to vote! Here's how!
1. Either click on the competition link on the first part of this post OR click on the picture link
HERE
2. Register yourself by clicking on the "Sign Up" window at the bottom left of the the page screen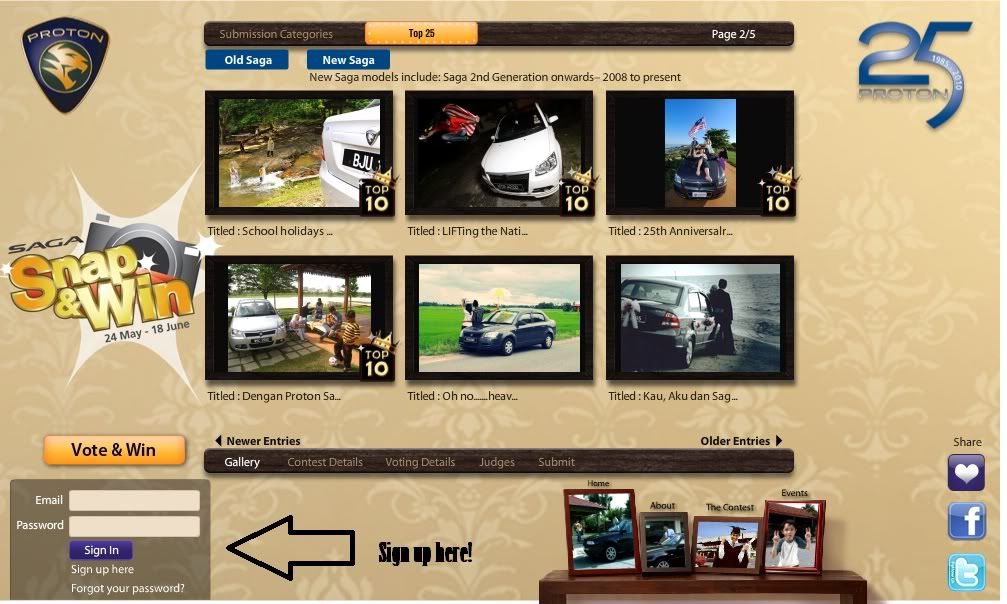 [ Follow the arrow to register! ]
3. Once done, the site will send in an email to the registered email with your password in it. The email should be from
"support@sagasnapandwin.com"
4. Login using your email and password and vote for 1 picture from each catagory "old saga and new saga category"
Best part about this people is that every email account will be able to vote for one vote EACH DAY which means the more you vote, the higher chance for you to win the
RM 2500
So please please please please please please please please vote for me on this! Get your mom, dad, sister, brother, uncle, auntie, grandma, grandpa, cat, dog, frog, cow etc to do so. Who knows, maybe both myself and one of y'all will get lucky with the prizes! :D
THE VOTING TIME ENDS ON THE 28TH OF JUNE! PLEASE HELP!
Nang
this post if you like it guys! Thanks!