Recently I've been taking in a female perspective of their own body image and in the same time compare it with what guys would think whenever they look themselves in the mirror. Coincidently, I found
Debbie
's
post on the same issue and figured that her take on weight really is interesting.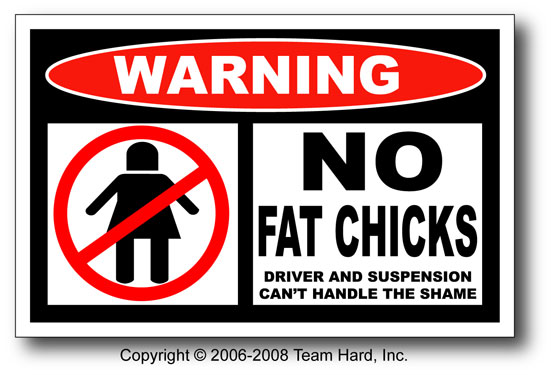 its the law...
For every man that has ever been with a woman, we know the obsession of the female persuasion to losing weight. However, lately we've been spotting people who convince themselves that they are overweight so much that they are willing to shed the pounds to the brink of starvation. Question is, why?
Perhaps it is the fault of the social stereotype, that no one would be able to look good with too much meat on their bones and with this reason, women is now left with the convincing idea that the skinnier a woman is, the more attention that the girl would get from men.
I don't think so
Let me be the one to say this, for the sake of preference of many men out there, that we would prefer girls that are curvaceous than a skinny, stick insect of a woman any time of a day. Personally for me I would rather have a woman who has a good appetite than a half a bowl of salad eating giraffe anytime of the day. I know for a fact that women suffer to make themselves look thinner than they ever before and I don't understand why. In the end of the day, one would try to make themselves look better by hating life itself.
Fact, this situation is the same for men. We too are conscious about how we look and believe me when I saw this, its harder to strike a balance between being too thin and being too fat. Trust me when I say I know this, the last thing you want is to either look like that skinny weak dweeb or the oversize panting man chasing after his runaway donut. If any of the women out there feels that its easier for men, think again.
One man in a Speedo to ruin a perfect picture
So, where's the target here? Slight hint: Just be normal. Its perfectly fine for wanting to keep yourself fit and enjoy the goods of life in the same time. Check with the doctor to keep track with what is healthy, keep a balanced diet, work out more often and perhaps for one, evaluate the way you look with those who would actually give you an honest answer. As what they say, too much of anything can never be good.