I have to admit that there has been bucket load of events that has been happening this past weekend, which explains the recent diarrhea of blog post over the weekend.
As we all know, Race Day comes again in the sunny (well not for qualifying day) Malaysia and as per usual, racing fans around the country joins in with our friends from around the world to watch another sizzling race day in Sepang. As for me, this would be my 10th outing to Sepang and I would not miss the photo and blogging opportunity for nothing! To help me out, I've got my brother
Safriz
to help me out for those hard to reach photos!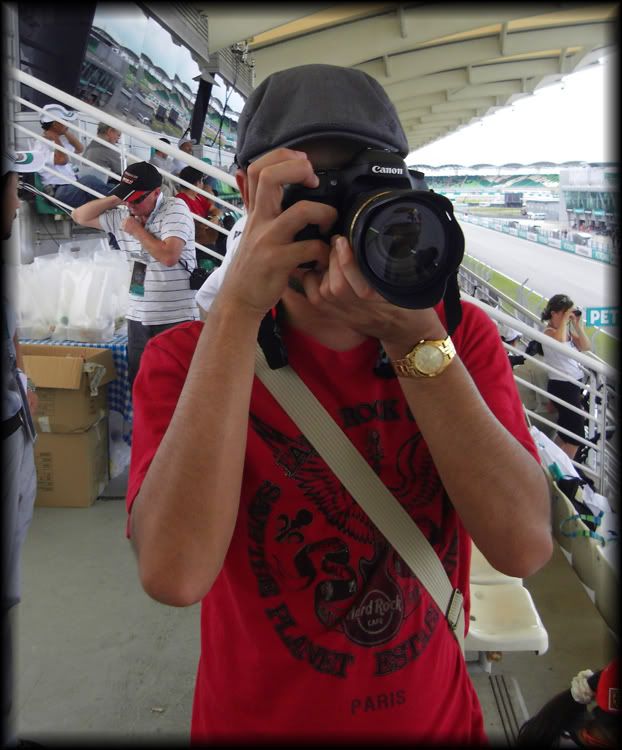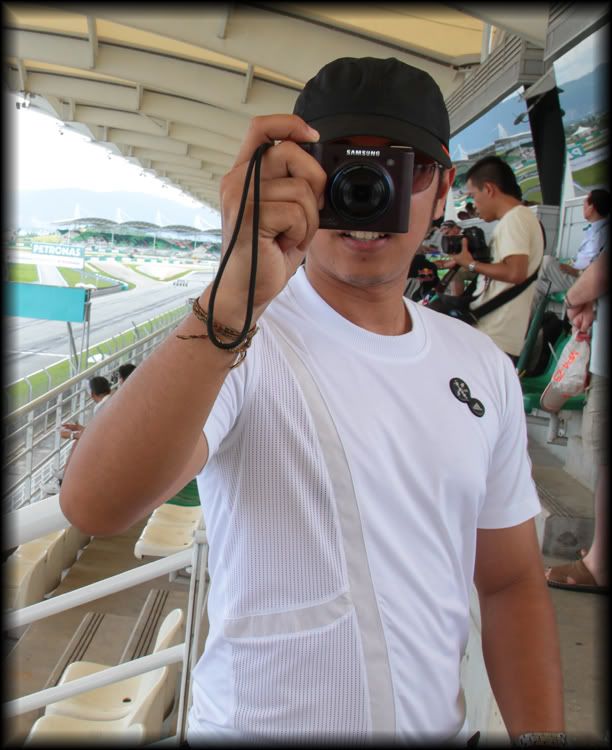 First Ever Collaboration Post!
As fans, we made sure we had everything on before going for the race. Hats, tickets, camera and equipment, even bothered to bring an umbrella in case it got too hot or started to rain. We made an early start to the track (over achievers) to make sure we beat the traffic and get enough photos and data before reaching there.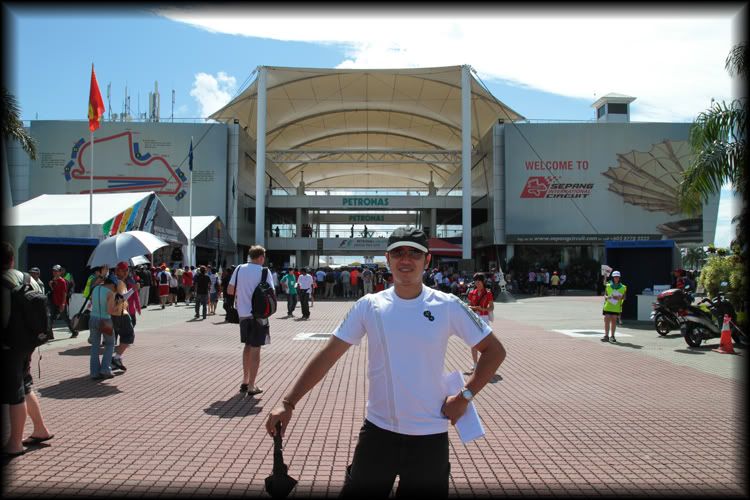 Yes I brought and umbrella, despite it making me look old...
With time in our hands, we made ourself free to wander around the park to enjoy the sights and sounds. I was worried initially because according to the Mets report, we were going to expect a shower during the day. Our arrival was greeting with a warm view of clear blue sky ahead.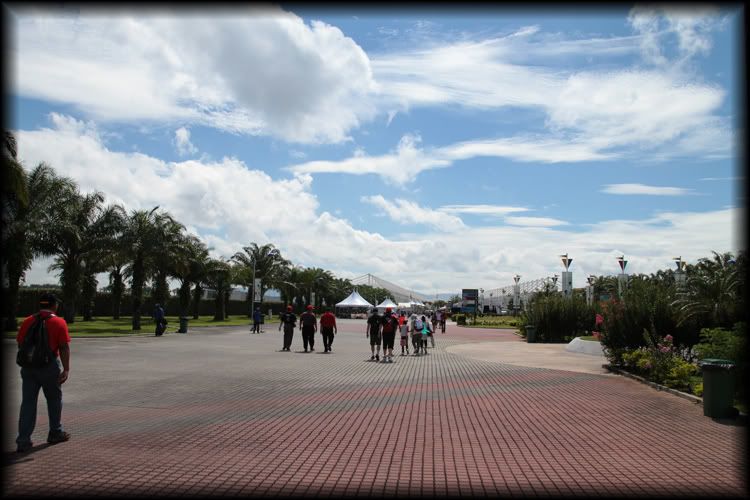 Enough blue sky to make a sailor's uniform they say
One of the attractions that they have here during Race Day is the outside events that they have apart from the race itself. We decided that, since it was still early, we would check out the booths around the park. First up we have the Mercedes Petronas Booth, one of the Petronas and Malaysian sponsored cars for the race. The cars this year is driven by Nico Rosberg as well as all time F1 legend, Micheal Schumacher himself. I would never dream to see the day he would drive for us.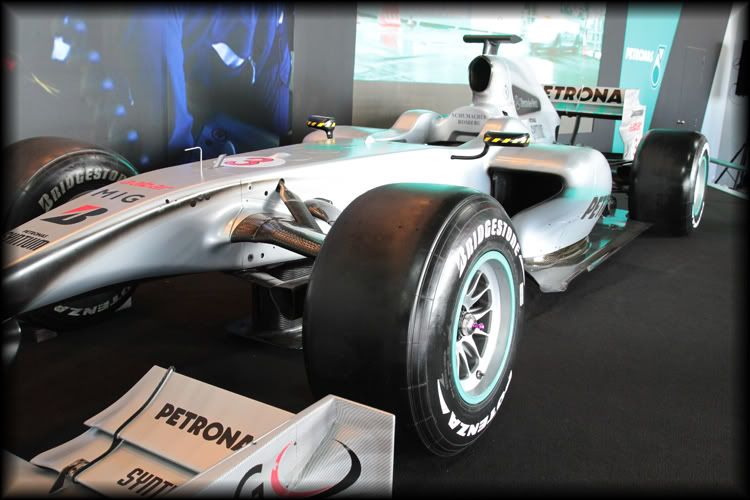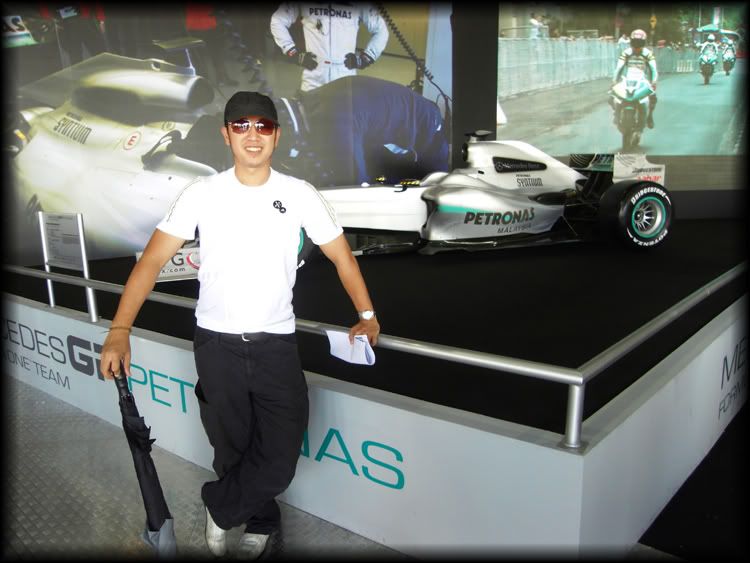 Looking pretty spiffy with all these cars...
Next up we have the LG booth, one of the main sponsors for the F1 broadcast. For all of you tech geeks out there, you would know about their launch of the Borderless TV, which makes their TVs look like a mirror. Very impressive I would say.
Future LG drivers in the making
I might get into a lot of trouble for this..
Of course, the entire park is covered with merchandise stores that sells team jerseys and everything else under the sun.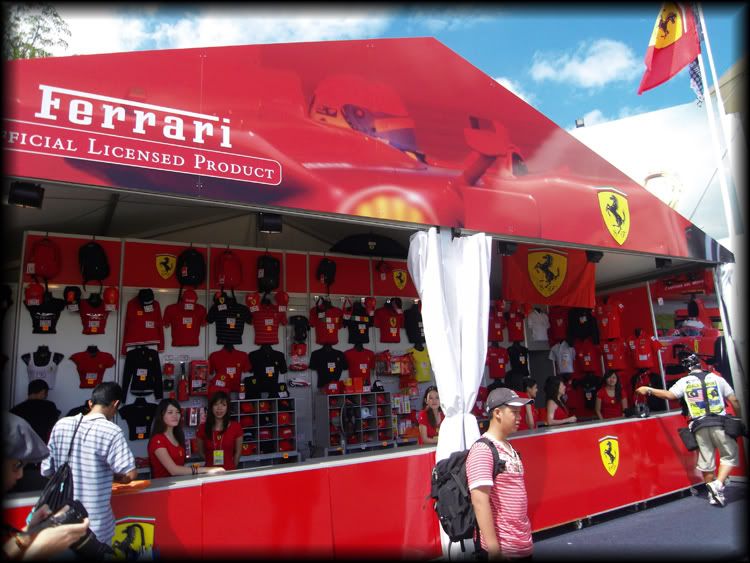 Ferrari is back in town!
As for those of you who still don't know, this year we are proud to unveil our very own Lotus F1 1Malaysia team, which is a revival of what was once a racing giant back in the early 90's (I might be wrong on the stats here). Honestly its great to see us Malaysian cheering on something that we invested in, even though we could have a local driver behind the wheels.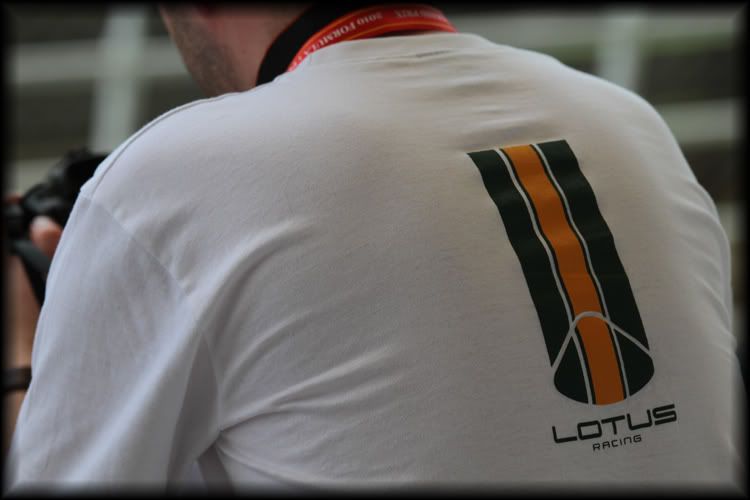 Welcome home Lotus...
Since we were there quite early, there was very little people around the park which didn't really account to the number of people that was going to show up for the race. With the race starting at 4 PM, we were running out of things to do at 12.30 PM. So we decided to walk around and snoop at some pictures! However, by the time the race was nearing, the fans began to flock and soon enough we were outnumbered by the number of fans and the sound of cameras clicking away as much as we were doing earlier!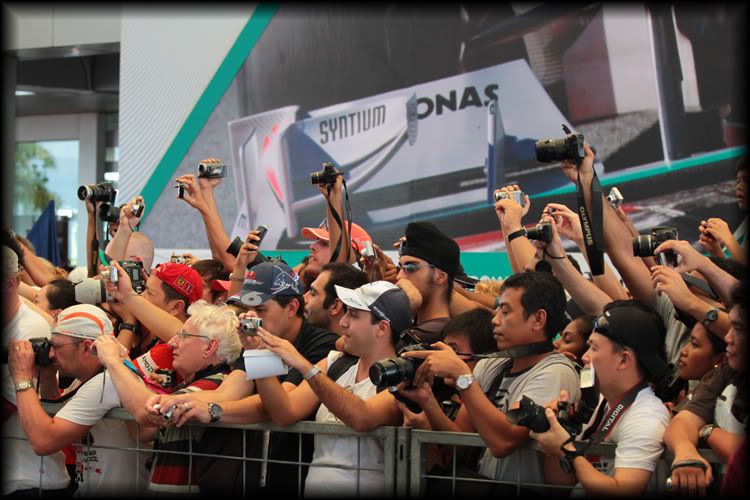 Madness begun during the meet and greet session
2 hours to race time
Fans started to pack the walkway
1 hour to race time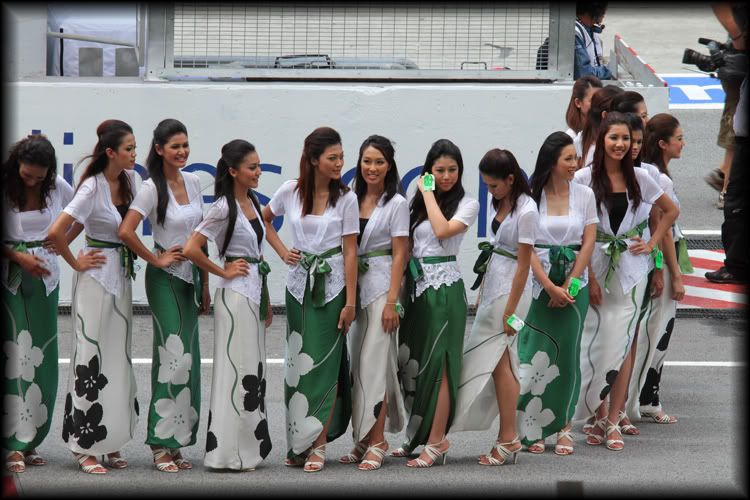 Grid girls began to line up
45 minutes to race time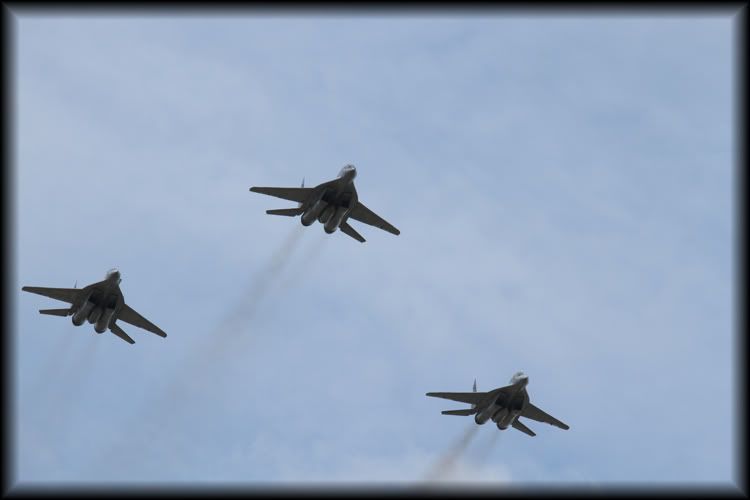 Really awesome air show
30 minutes to race time
By the time the race was about to start, everyone was feeling the hype and excited at the starting grid. As the race started, everything went well for the organizers. The predicted rain never came and we had great weather till the very end of the show. The race showed some competition but never really challenged the initial leader from the qualifying round. Unfortunately, Team Lotus didn't fare that well for this round. Perhaps that we would see a more improved performance from them in the next couple of rounds.
Our Lotus in action!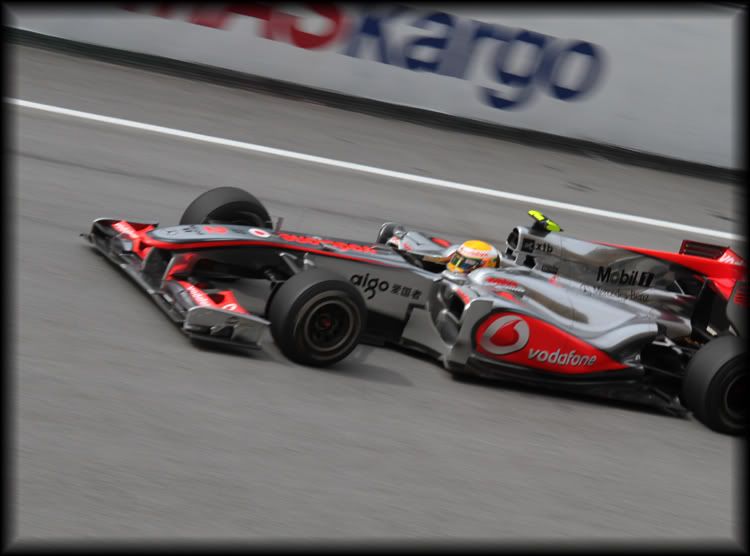 Click on the thumbnail to view other teams in action!
All and all, I thought that it was a great outing for me and as usual, race day in Sepang never seem to disappoint me at all. Perhaps next year, we would be gunning for a spot at the Paddock Club once again. For this year, I'm sure its clear who is the clear champions for the event.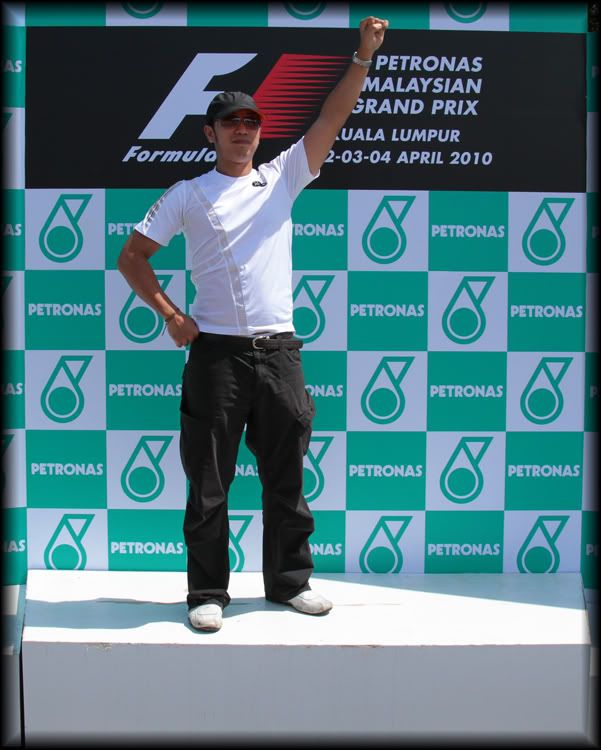 Faham-faham sahajalah...
Please do check out more photos of the race at
Safriz
's website!
Nang
if you like the post guys!