For most of us, Indonesian food does not come as a new thing anymore yet it does not have the same popularity as other foods in Malaysia. However, our search for a new place to eat led us to this place in Sunway Mentari Court area (PJS), where I personally felt that the food was worth blogging about.
Place
Located opposite of Sunway Pyramid (if you follow the road to U-Turn to Sunway Pyramid from Subang, you'd never miss it on your left), the access of the place can get a bit crowded sometimes and it does have its busy times. Fortunately there are multiple entries into the place so there is always an alternative.
Nothing snazzy about the restaurant itself, it looks just like a normal restaurant in town. Its air conditioned (thank god!) which is a plus especially during the drought times like now. The place also provides free Wi-Fi in the premises so surfing with your laptop in the restaurant is not a problem.
Price
Nothing out of the ordinary, so you'd be looking to spend around RM6 to RM9 per meal, especially if you go for the set lunches that they offer. One thing good about the place is that they are quite flexible when it comes to their sets, as in they are willing to mix and match between their menus and sets, should you choose to do so!
Product
As most people would know, Indonesian food generally focuses on white rice with dishes to go with it, similar to our taste of food. Recently, the new trend of Ayam Penyet that is becoming more popular these days in the market seem to promote that dish as part of Indonesian foods in Malaysia. For this restaurant, they too have their own squished chicken
Ayam Penyet Lova!
Their version of ayam penyet have a very distinct flavor to it, much different to the normal ones that you usually find. Ridiculously tender, the chicken meat is so easy to tear of from the bones which gives you a hint on how the taste of the chicken would taste like!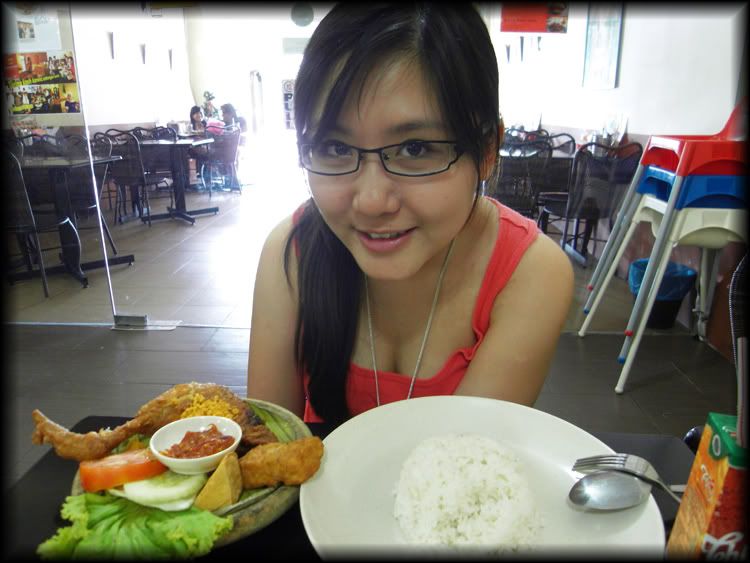 Managed to crack a smile, despite the hunger look...
I for one chose for a plate of Nasi Rawon which is the traditional Indonesian soupy dish with slices of beef in it. Believe it or not, my first encounter with the dish was not in Indonesia but from a friend's restaurant somewhere in SS15 Subang, which got me hooked instantly.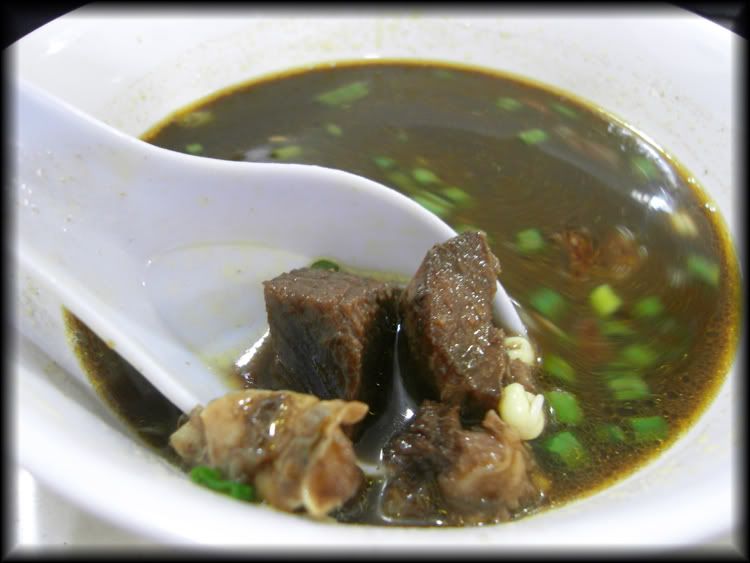 swirly... swirly... swirly...
To put the best description for the dish would be a mixture of a beef steak soup, complimented with a blend of tasty, savory spices. A must try for the restaurant.
One of the best thing that one MUST try in the restaurant would be Indonesia's own TEH BOTOL SOSRO! Since I travel quite a bit to Indonesia, I realize there is nowhere in the country that you would not find a pack or a bottle of this drink. Jasmine tea with a hint of special flavoring to it. Suwen didn't seem to like it that much, I love it to bits! Do try it!
Teh Botol as featured in safrizphotography.com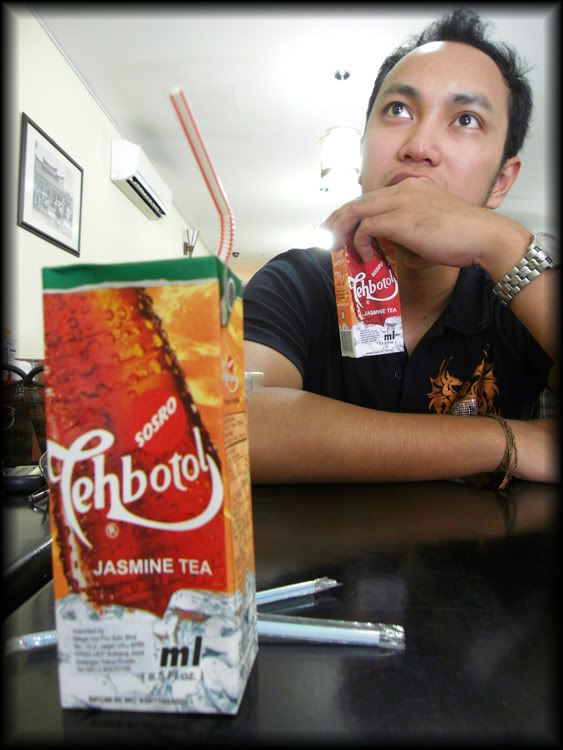 Yes, it is a must to pose with the drink...
In short, this would be one of the restaurant that I would definitely recommend for all. Affordable for students and offers a great taste to it as well. Do drop by!
No. 18 – 1 (GF), Jalan PJS 8/2.
Dataran Mentari – Sunway
Kuala Lumpur, Malaysia, 46150
(03) 56310312
Nang
if you like the post guys! Thanks!