Here we go again... another blogger who decided to write something that he deems to be funny and Segue the reputation of bloggers like us into the drain again.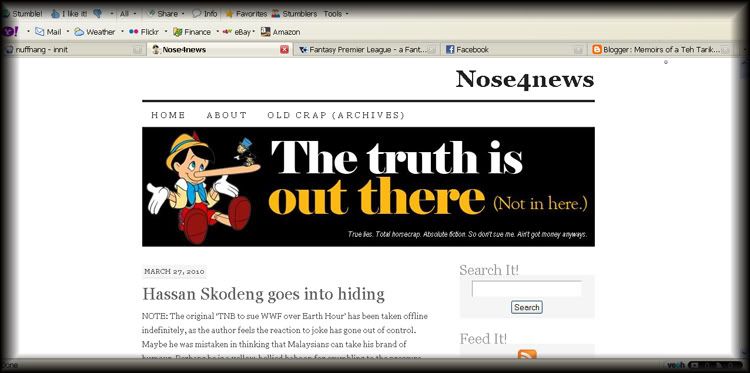 Recently we've seen a barrage of people updating their post based on the news that the CEO of TNB has decided to sue WWF over the Earth Hour campaign that we had yesterday. The news ended up being a hoax however it attracted a lot of attention from so many people to the point that some would actually believe that it was true...
I've written a post before on how there should be a freedom for bloggers to write what they think, so long that they follow the boundaries of reason and consideration to other bloggers (click
HERE
to check out the post) and perhaps, I would repeat myself again here.
Bloggers should at least have the common courtesy to use the right to speak your mind responsibily. Our friend here decided to, out of sheer joke and humor, spread false news depicting a view on a corporation for the sake of viewers and popularity. Is this what we are left with?
Already us bloggers are having a bad rap, with news of bloggers who use their blog to maliciously condemn innocent parties and in the end, outside readers no longer take us bloggers seriously. There are so many of us bloggers around that actually respects the etiqutte of blogging, simply because we actually take the consideration and rights of other people seriously. Because of the small number of idiots like this, all our efforts of keeping our reputation intact goes down the drain.
There is NO JUSTIFICATION for an act like this. I am amazed that some may think "Oh have a sense of humor, he already wrote there on his banner"....
Just because I give a disclaimer, gives me the right to do whatever I want?
Readers, please bear in mind that this person actually have A LOT of readers and his words are read everyday by a lot of people. You would think that someone with that much popularity would at least disclose himself rather than hide under the anonymous curtain of the internet, even more than be a little bit responsible with his posts? Malicious accusations of another party is NOT A JOKE sir, it is an action that can be taken by law if there is proof that people HONESTLY believe that it is the truth.
The post has since been taken down from his site but I feel that bloggers like this must be made as an example.
I would humbly ask readers out there to give their thoughts maturely on this matter, as I would want to see the response to this matter. Perhaps with enough opinions, I would be able to show this to Dato Che Khalib and other TNB officials and get their opinions on this matter, I would promise that.
Nang
this post if you like it guys! Thanks!