Everybody loves Italian. No one would doubt that. I do see the irony that one of things that brings us together, despite all our differences, are our love for foreign cuisine, in this case would of course be Italian food. However we stumbled on a very unique way of serving pizza in which I would definitely guess that it would be a trend to follow by many others in the near future.
As per usual, I stumbled along this restaurant while I was with the girls looking for something new to munch (quite honestly we are sick of the usual place we always go). Located at the new The Palate Mall in front of IOI Mall Puchong is a this restaurant that, as how the name suggests, serves their pizzas in a cone! Of course offering other Italian dishes as well but they are made special with their cone shaped pizza's, baked to perfection!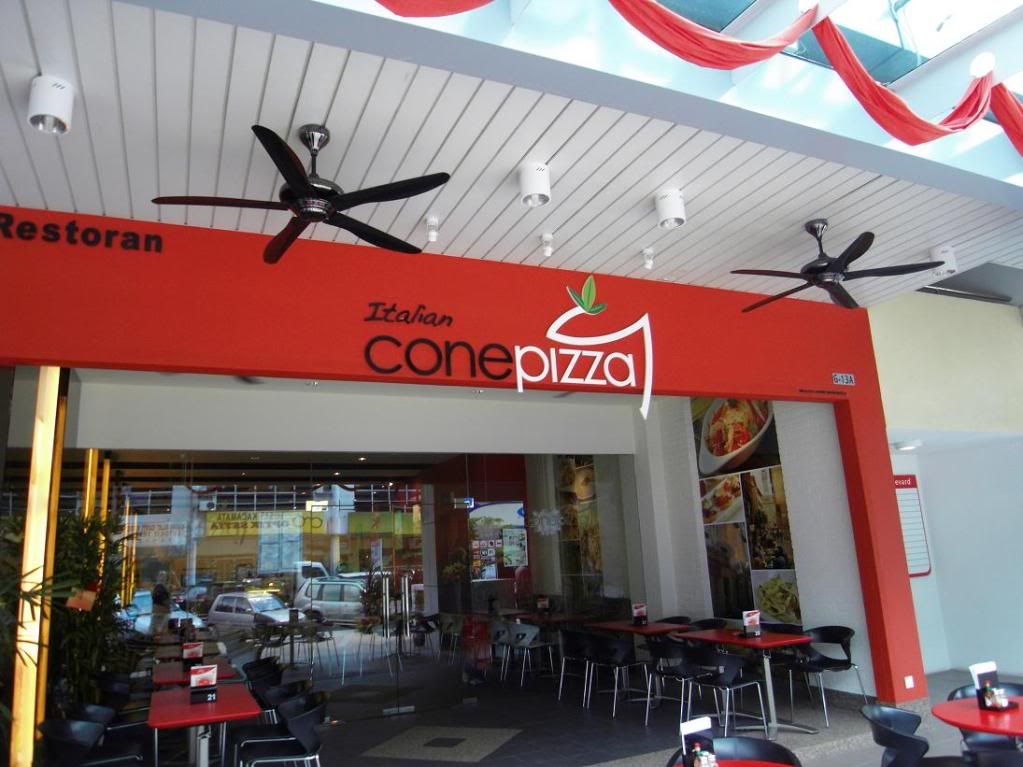 Easy access as well as a very nice to the restaurant, one drawback would of course be the parking to the place, which is a norm in Puchong area. But, they do have ample parking space in the building, which would cost around RM1 per hour.
Price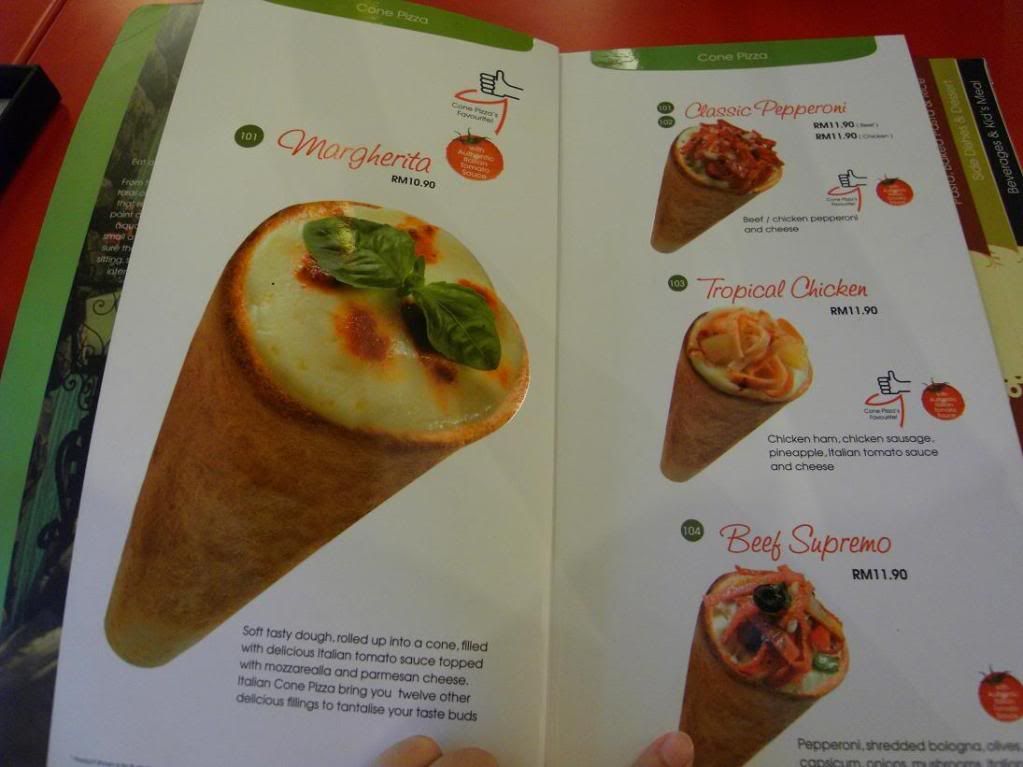 As usual, most of us would base our choices on the prices of the product. For most of the stuff on the menu, its quite affordable (especially for us students), as the pizza's range around RM9 to RM 11 per piece and depending on the topping that you choose. For most other pasta dish would cost around the same so generally the choice would have to depend on the dish of choice. As I mentioned to
Suwen,
its obvious for one to go for their cone shaped pizza's while they are here!
Drinks cost around the RM3 per glass, which ranges on the normal types of drinks that you would find in an Italian restaurant. On recommendation on which to choose for your cone pizza, I say follow the same instincts that you would use to choose your usual pizza dish! (I am biased to the beef pepperoni...)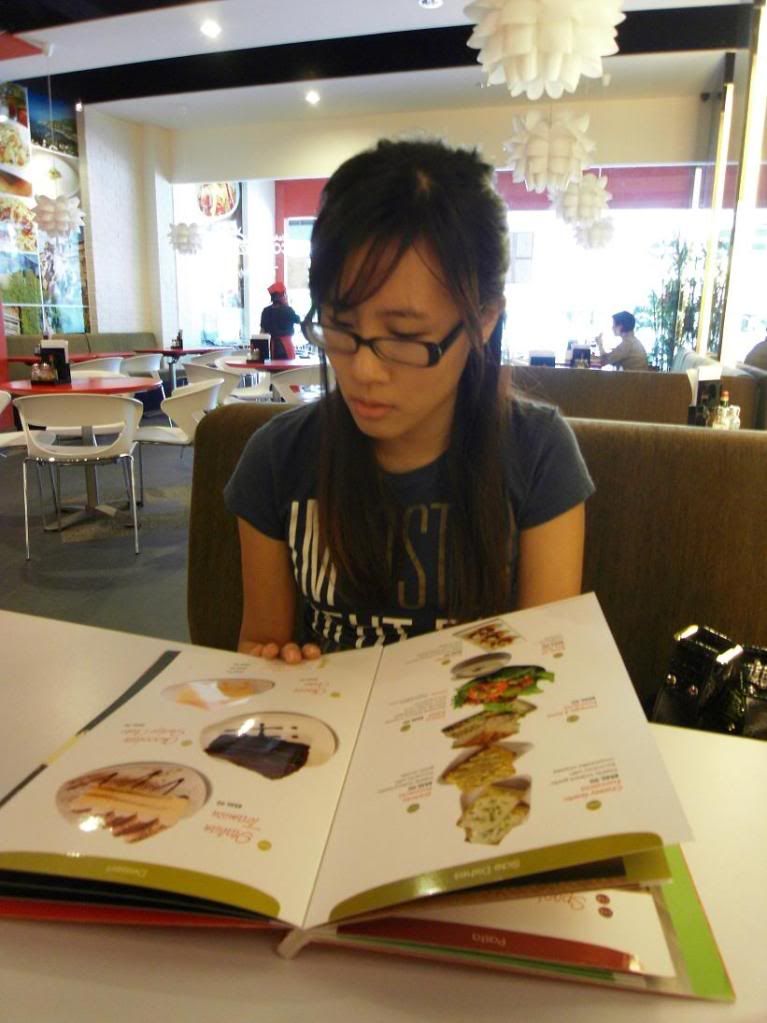 So many choices, much to the despair of really hungry Cheryl
Place
The restaurant does not boast the size and grandeur of a high class Italian restaurant but it does have a very homely feel to the restaurant. Apart from surprisingly delightful comfort, each table is assigned to a plug as well as Wi-Fi connection within the restaurant, which allows you to bring your laptop and surf away while waiting for your cone pizza. According to what I was told, they don't have much crowd coming into the restaurant even during their peak period, so you can expect fast service for their food as well as attentive waiters for your dishes!
Apart from that their decorations are also done nicely, not really overdoing themselves of trying to look like an Italian restaurant but enough to be recognized as one. In fact their menus also tell the story of the very first pizza which is bonus point for me!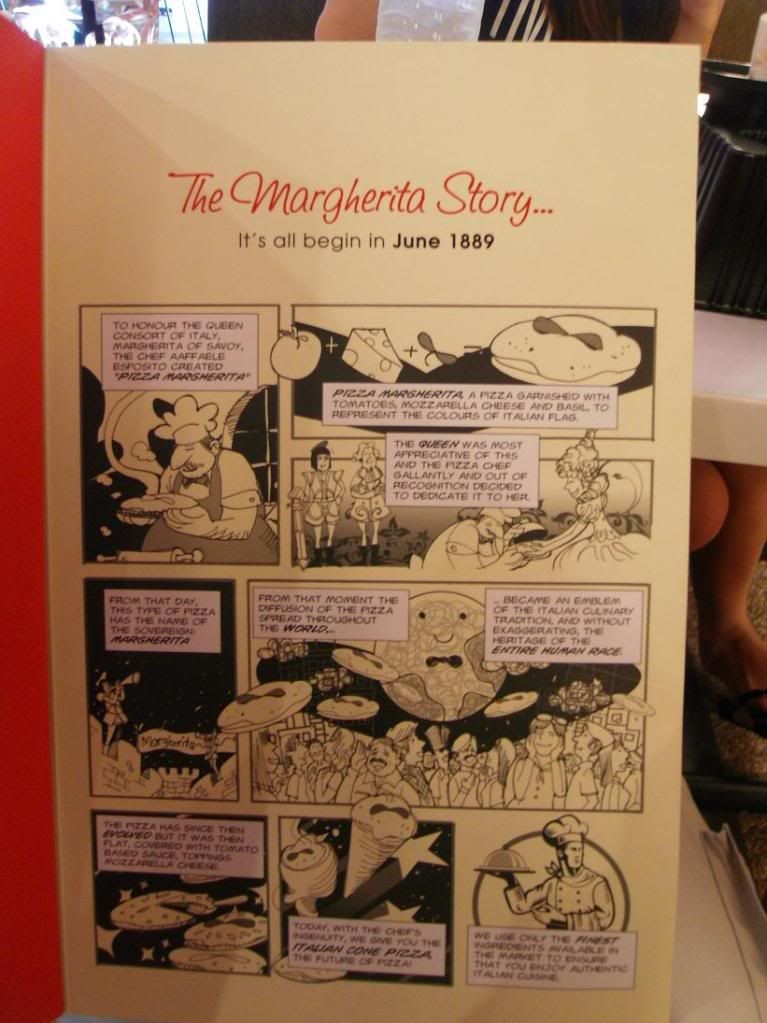 Click on the picture to view the story!
Product
One of their items that is made famous would of course be their cone pizza. For me, I do have a very difficult taste for Italian food to satisfy, because of my travels and sampling Italian foods around the world. However, I would say that they do live up to my standards of good pizzas!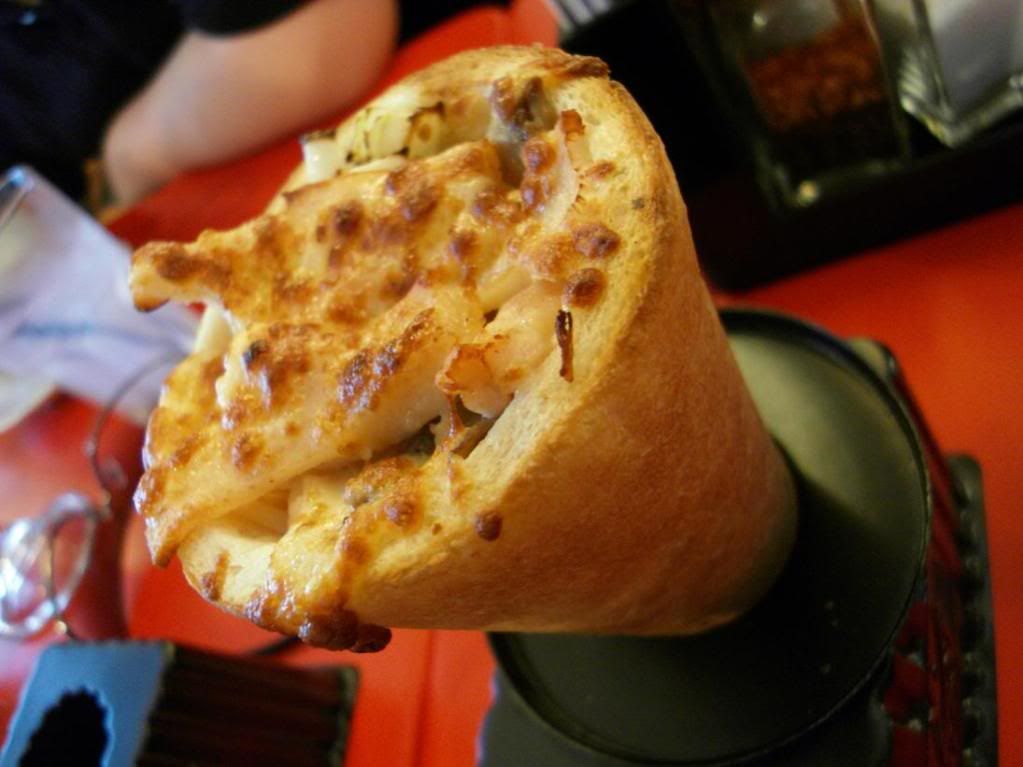 Conetastic!
To describe the way how they taste, imagine their pizzas baked into their shape so the inside is really hot and toasty while the outside is just warm enough for one to hold on to. However, some criticism about their pizzas is that despite them tasting good, the portion of the pizzas are way to small to really satisfy a hungry customer so please be aware of this!
Pasta wise are also just as good. Bigger portion but I would say that it doesn't have much difference with any other good tasting pasta place. But if pasta is the name of your game, I am not one to argue!
Pastariffic!
Promotions
Unfortunately, they don't really have much promotions apart from their set lunch and dinner menus, which on a personal note is not really worth the shot if you know what you are going after in the restaurant already. But, do keep in touch with the restaurant's website in order to know any promo offers that they would put out in the near future!
As one would say, to judge if a restaurant is good or not would depend whether it is worth to come back to the place for the second time. On my own judgement, I would definitely say that this place is worth not only the second but many more times to come for a lunch or dinner visit. Do try out their unique pizza's, I'm sure that this would be a first among many people's book!



Puchong IOI Boulevard
13A Ground Floor
Jalan Kenari 4
Bandar Puchong Jaya
47100 Puchong Selangor
Tel: 03-80704691
Nang
if you like the post guys! Thanks!