I would like to acknowledge Sdr. Faqroul for the permission to use his pictures for this post as well as MCKK 9600 for some pictures as well. Thanks guys.
As one of the many events that are organized by my batch members this year, in conjunction with our 10 year anniversary (in other words, a celebration to remember that we are not as young as we used to be), we've decided to hold our
MCKK 9600 Interhouse Futsal Tournament
, as part of our efforts to contribute to our existing sports houses that we are from in school. So, this would basically mean:
Our Official Logo
A bunch of 27 year olds playing head to head with each other for the sake of pride and glory, knowing full well that none are as fit as they used to be
ADD
Each team would go up against each other in a grouping stage before carrying on with a final elimination round. Game time = more than 3 hours of total futsal.
EQUALS
comedy football to be expected...
Interesting enough, we also decided to organize our little competition in
HTO de Futsal
, one of the many known futsal places available in Subang which gives me a great opportunity to review the place and the event at the same time.
Located at Jalan Subang 5 in the Industrial Park USJ, this place offers a relatively large number of futsal courts, competitive with what is provided with their known competitors such as Sports Planet, Rio de Futsal and such. One of the main difference between this place and other futsal providers around the Subang is that their courts are not laid with artificial grass carpets but rather padded flooring. There are pro's and con's on the use of such material for the flooring, one in particular that I find would be that the slickness of the flooring gives much more speed to the player however this would sacrifice the grip of the shoes for better turns and stopping. In other words, one would need to invest on proper futsal shoes for their courts otherwise, as how I found out the hard way, you'll end up slipping across your opponents at the very crucial time of play.
Conditions of the Courts
The conditions of the courts I would not really say that they have the best in the market so far. Truth be told that we found there were a lot of patch works that has been done on the courts as a result of wear and tear from the usage of the courts, which some might say did effect on the game play that day.
Availability of courts for the place I would say was relatively good. Since that we decided to make our event on a public holiday, there was still a lot of courts available during that day which is a good thing considering the possible interest of others for booking a spot to play as well.
And so, we have our competition...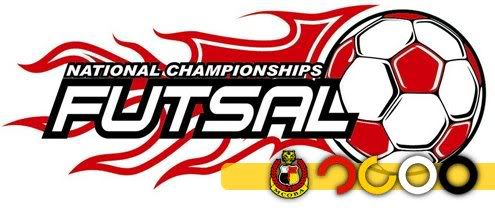 Our competition logo - we had to make it legit right?
As mentioned above, we were all divided into our respective houses, much like when we were back in school and of course, all of us are required to bear our house colors.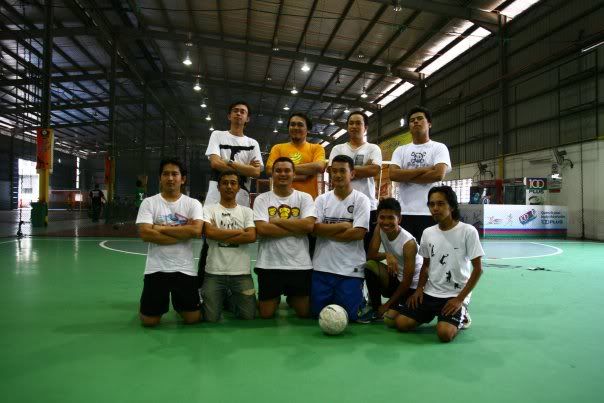 Idris House - On and Onwards
Of course first up, we have Idris House aka white team which is the team that I am in. Overall performance for the whole competition was not bad, considering that WE LOST the entire grouping stage but managed to perform a comeback during the knockout rounds (we blame poor referring skills that have allegedly made bad calls on us. I would honorably represent my house to make a statement that maybe our lack of stamina and form might have contributed to the loss a little bit). Nevertheless, we managed to chalk in third place for the competition.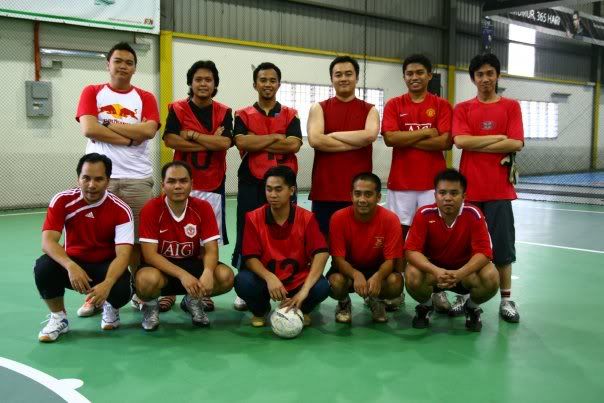 Sulaiman House - Towards Greater Achievement
Next up we have Sulaiman House, aka Red team, aka The Early Birds. Looked formidable during the competition, seeing that they WE THE ONLY TEAM THAT TURNED UP ON TIME for the competition, which should give them some credit for that. Strong performances throughout the competition, unfortunately met with a unluckly loss during the knockout phase. Chalked up fourth place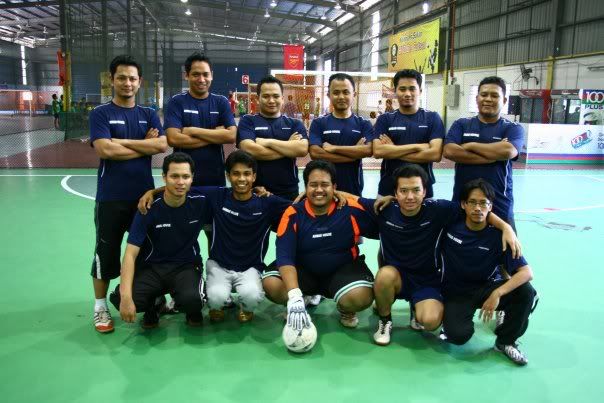 Ahmad House - Strive Forever
Another favorite in the competition based on early bird attendance, they were billed as favorites for the competition. With the backing of the more fitter team in the bunch, alongside with the presence of Sdr. Azri (aka Petet), providing much "side-line instructions" and attempting to distract the referee with comedy comments, they proved their worthy of their expectations by emerging champions of the competition.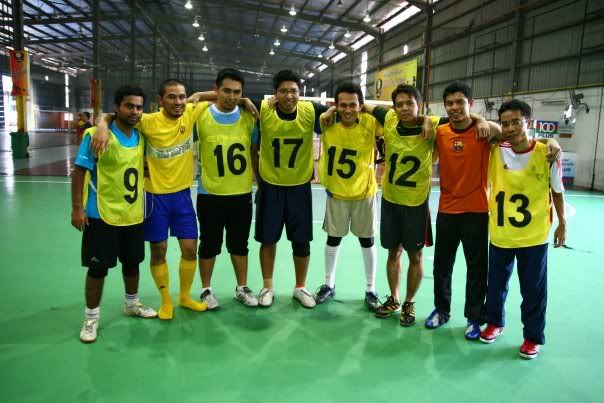 Mohd Shah House - To the Limits and Beyond
Finally, the true underdogs of the competition as well as providing the greatest surprise for us all. Having lack the number of members in their squad, the team managed to chalk and impressive unbeaten game in the grouping stage before subsequently beaten in what would have been the greatest futsal final of all time. For all the football fans out there, who would lose a 3 goal lead?
Overall, the competition was a great success and posed a much needed reunion for all of us before actually coming back for our tenth year anniversary. However there are still many special mentions that needed to be given during the competition, at least to my opinion:
MoaTTD Honorable Award Mention
Best Outfield Player of the Game - Sdr. Zakriman aka Zack
I'd give him the award simply for his performance during the competition. Quite honestly if anyone can find a 27 year old, German speaking, father of two who managed to perform like he did in the field, I'd gladly put his name up for this. :)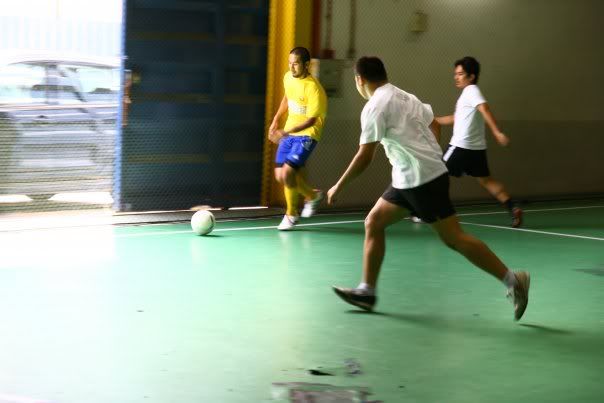 Zack taking on two of Idris players
Best Goalkeeper of the Game - Sdr. Yunus
If you face a goalkeeper that covers 3/4 of the entire goalpost, you tell me how the hell are you going to score? Then again, you can hate a man of his size and still gathers the ball like a pro...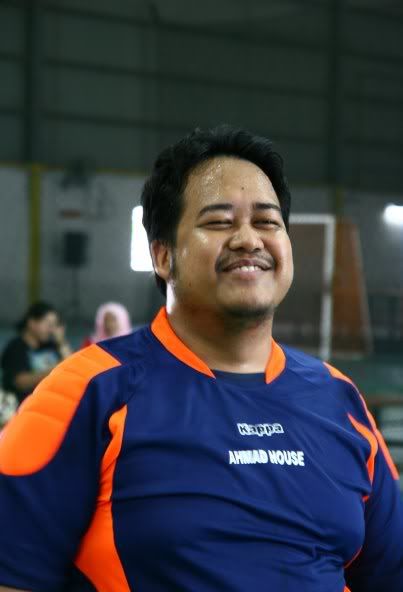 You can never hate a big guy...
Most C
onceded
by a Goalkeeper in a Match - Sdr. Sharizal aka Me!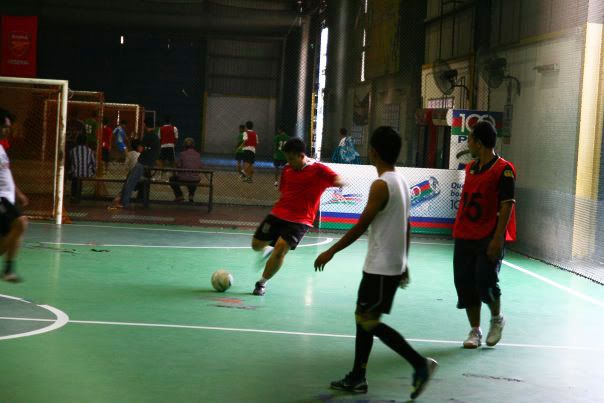 That was my line of sight before me going "Ohhh crap...."
What can I say, I sucked at being a goalkeeper. My mom made me like this...
"Hard Luck Boys"Award - Sdr. Azri aka Petet
My good man, take a bow. Coming on to the game very enthusiastically, only managed to rake in 15 seconds of game play before pulling a hamstring. Quoting one wise person "Petet tu kalau gulung balik stoking dia, confirm boleh jual balik. Bersih sangat sebab langsung tak main"
"Saya Tough" Player Award - Sdr. Nasriq aka Riq
Having flying kick a team member by accident during defense, landed on his hip and continued playing, and also having his "family jewels" hit by the ball in a high impact manner. Yet he still persevered to contribute for the entire competition. Well done mate.
Supporting Role - MCOBAnita 9600 aka "WAGS"
For having to endure the entire time watching their partners playing a game they can never understand, endure countless repeated jokes by the side of the court and most importantly having to endure the stinking "aroma" of our sweat throughout the entire competition. Truly what they say, behind the success of every man comes the support of a great woman.
Thanks guys!
any other awards I should add?