Been wanting to write about this blog for a long time. Lord now how much I complain to
Suwen
on how we now as a country are facing a problem about common courtesy, ironically something that at one point in the history of our country, we were deemed "too polite", a trade which most Asians bring tot he world. Evidently, I had a reader, Sdr. Vincent

who mentioned the same issue in his blog. Therefore I would follow up my blog based on my own experience and reading his blog on this matter as well.
After spending so many years in Australia, I realized that the culture of "just being nice" to people is starting to fade in this country and evidently, the government recognizes this problem by promoting the "Budi Bahasa Budaya Kita" campaign. Yet until today we are still facing the same old problem that many of us think that we are too good to just be nice to people.
Is this really true?
Fact of the matter is that many of us don't realize that many of us fail so badly in maintaining common courtesy in public, due to so many reasons. Could it be that its because thats the attitude that most population of large cities are? Could it be that we just don't bother?
Many have asked whether we are losing our culture of being simply polite to others, because sometimes we are too busy to catch up with the hustle and bustle of others that the older culture would be the first victim to accomplish this.
So why am I saying all this? Try out this test and tell me whats the result in 10 attempts:
1. When arriving to a door, hold the door open
2. Check out how many, among 10 or even 20 people, would actually say "Thank You"?
3. Even when the person is far away, hold the door. See whats the response.
More often that not, when I tried this, not even half would bother saying "thank you" and the response to me holding the door open for someone who is coming in would be a suspicious look, wondering why am I being so polite?
Are we even listening?
For one, I am not blaming the government for trying. Campaign such as this is good, no matter what the reason behind it is. Maybe sometimes we need to get off our high horse and take some time off to just be nice. It doesn't even cost a thing.
One thing I would want to argue in comparison, that we in Kuala Lumpur should be compared to the standards of people in similar size towns. If I was to compare our country to the people in Sydney and London, two major towns I live in before, they can get much worse in comparison to us. So maybe, there is a saving grace among us after all...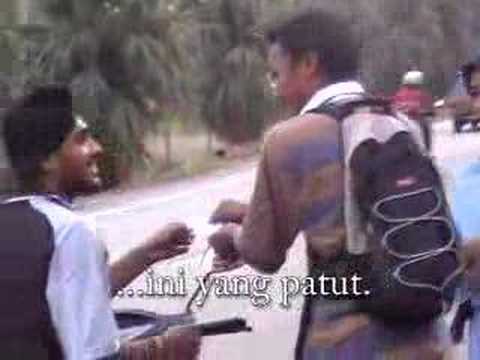 Try out the test, and tell me whats the result. Would love to share some stories to improve the situation. After all, Aren't We Courteous?
Nang
for support guys! Thanks!