12 years ago, I attempted to actually learn how to play this game, simply because it seemed like the cool thing to do back then. Growing up in a boarding school, where everyone played field sports, it was great to be the "selected few" carrying a golf bag around. Plus, we had an excuse to go out more often than the rest...
But as time went by, a younger me found the game to slow and so the interest died with it...
Today, I made another determined attempt to crack the mechanics of this game and once and for all conquer what I failed to do so many years ago. Reasons why I had a spur of the moment to pick the game up:
1. Both my parents play the game, which means I had heaps of golf sets lying around for me to pick and choose
2. Both my parents play the game, therefore I am sick of their friends asking "
yang ni bila lagi nak main...
"
3. At a young age of 26, I suddenly realized that my body can no longer endure the fatigue of other, more fast
paced sports as well as I used to
4. At a young age of 26, my other classmates are ALSO realizing the same time mentioned above, so more
kaki
to play with
5. My best friend is a single handicapper = free coaching!
6. Good opportunity to start a sports column on this blog!
And so, with the reasons above, I venture to a sport which I was left behind, hoping to catch a new light on how to tackle this game.My first task was to actually get a set for me to use so I scrummage the house rumpus room and managed to collect an unused, entire set of golf clubs
a set to call my own...

I know that many are not too sure what "golf club" is what and I do understand the confusion one would get for each golf club. To explain all that, it would take a whole blog to explain the clubs, so I would leave that for the next post...

So headed off to the nearest driving range, which for me would be for Bukit Jelutong Driving Range, Shah Alam. For those non-golfer readers out there, a driving range would be a place where u pick a spot with fake grass, rent a certain number of golf balls and whack the living daylights of the balls until you are satisfied with your practice for the day. Fortunately, as mentioned above, I do have a golf veteran as a best friend, whom from now on would serve as my trainer as well.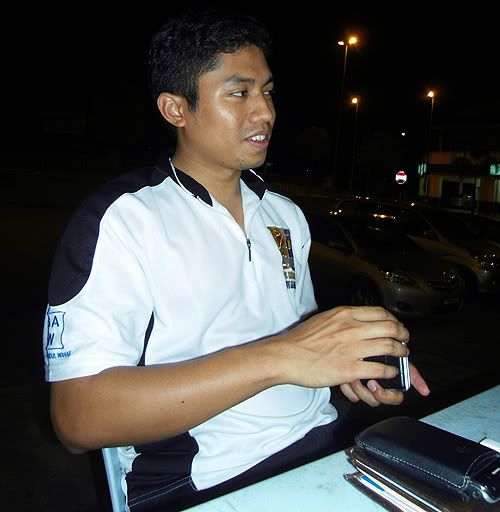 Mr Megat Hafiz, the Golf trainer

Rented Golf Balls

Naturally, each driving range would have their own price for rental of the balls. Usually (as we were charged) would cost around RM10 for a hundred balls and RM5 for fifty. Being its my first time in years, I figured I should take 100 balls. Overachiever...

As I set myself up for my first practice shot, I had to run a few drills as instructed to warm up, as well as getting used to the swing and motion. Lined up my first shot, made a few practice rounds and whacked the first hit of the day. With my limited knowledge of the game, I figured my first shot was pretty decent, so I double checked with Megat

Me: Dude, think I hit pretty well on that one. Is that a good place to be for my ball?

Megat: It is, if you had to take a sh*t in the course...

Thanks bro, a simple "no" would suffice....

So I learned the hard way that every technical aspect of the game is just as important to make the "Perfect Shot", as illustrated below
Lining up the shot - To determine the direction and accuracy of the shot

Upswing - To determine the form of our golf swing

Follow Through - To determine the power of each shot

Of course, this was only one of the aspect that a golfer should consider in their individual game, which makes the game even more technical and specific. One advice that was given to me on a golf swing would be the exact same advice that I was given for Latin dance class...

Its all in the hips...

And so, I look forward for more training sessions on the games. With hope, I would be able to master this game in no time but from the looks of the pictures, there is still a lot of work to do. Therefore, I'll leave you with MoaTTD's Guide to Scores in Golf. One of the things I am sure that most people don't understand at all. As said earlier, your objective is to hit as lesser shots into the hole, per course. Therefore, one would calculate how many shots does it take for a golfer to put the ball in the hole and obviously, each shot has it's name:

MoaTTD's Guide to Scores in Golf

1 shot - Hole in One aka. The Legendary, Godlike Shot

2 shots - Eagle

3 shots - Birdie

4/5shots (depending on the course) - Par

6 shots - Bogey

7 shots- Double Bogey

8 shots - Triple Bogey

9 Shots - Jesus

10 Shots - Jesus, Mary and Joesph

11 Shots - Oh my God...what am I doing?

12 Shots - I quit this stupid game

13 Shots - Do you want to buy my clubs?

14 Shots - Damn, I'll give you my clubs!!!

15 Shots - Arm...starting...to...hurt...

16 Shots - Hospital...please...

17 Shots - ---------------------------------- (flatline)

For those golfers out there would enjoy this better...