Once again, Christmas looms to town and everybody seem to be up for the whole Christmas party spirit. Seems to me that shopping malls, restaurants and others are really cranking up the Christmas decorations and promotions this year so I figured it would be the best time for me to join in the festive fun!
Since our usual
kaki
has now been reduced, we've managed to call up some peeps for our very own Christmas dinner. Seemed that it would be a crying shame if we didn't take advantage of the dinner promotions they had this year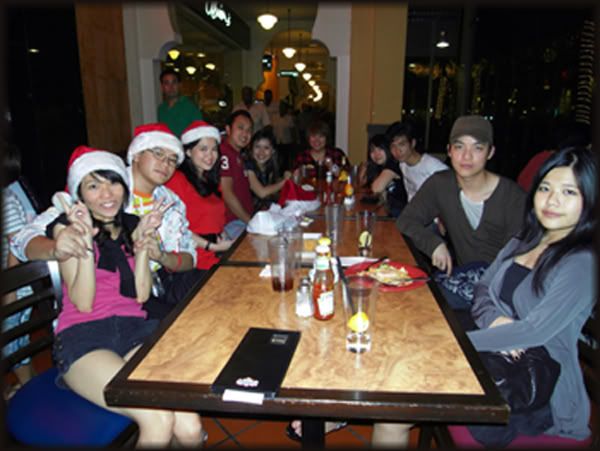 Decided that we were to have our Christmas Party this year at TGIF Curve, Damansara and of course we had the usual suspects there as well. We did meet new people in the group and they turned out to be an awesome bunch of people as well. In line for the party theme, the girls enjoyed dressing up in theme for the party or at least an accessory. As expected, my refusal to wear even a Santa hat, let alone "reindeer ears hairband" was made very apparent for the party.
Even their dresses match the theme!

Santa hat makes a debut

Even the guys are getting into the festive mood. Whether they are voluntarily doing it is still in contention...

As for me, the only way for me to be distracted from being forced to wear any accessory would be to start "keeping myself busy" with them...

This little stunt kept me safe all night

All in all, I think the entire party turned out extremely well. Sure we didn't really have the "extra-humongous" Christmas party but I reckon that a small, personal party with the a group of friends you can share a laugh about is what the spirit is all about. Besides, it kept me away from spending my Christmas choking on something furry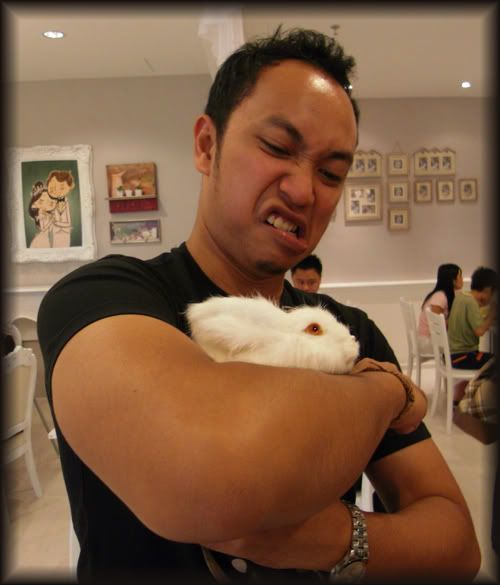 The monkey was not available for choking that day...

MERRY CHRISTMAS EVERYBODY!